Family Tree Maker Overview: Start Your Genealogy Journey
Family Tree Maker is a user-friendly genealogy software that makes building a family tree easy, thanks to its straightforward data input tools and high-quality photo editing features. The software offers more than just tree creation; it also gives you helpful hints for additional family research through well-known genealogy sites like FamilySearch and Ancestry. Keep in mind that using Ancestry's historical records may require a paid subscription. The software is compatible with both Windows and Mac, but there's no free trial and it lacks a refund policy, so you can't try before you buy.
In my thorough review, I've delved into all the aspects of Family Tree Maker, experiencing both satisfaction and some minor letdowns. To get a complete picture of what this software offers and whether it aligns with your needs, keep reading.
Get Started With Family Tree Maker Today!
Family Tree Builder Software – Easy-to-Use and Simple Interface
Family Tree Maker has a clean user interface, with a simple method for imputing relatives, making it a great choice for expert and beginner genealogists alike.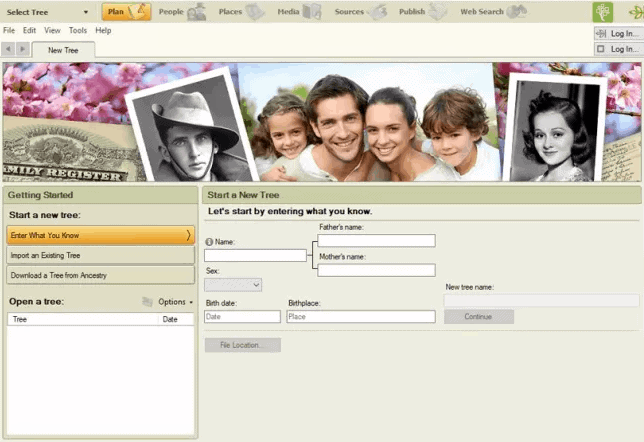 Data entry in Family Tree Maker is a fast and simple process. You can include a wide range of information about each relative, along with media files and editable photographs using the Photo Darkroom tool. Here are some other features of the family tree builder:
More than 25 visually appealing charts and reports to choose from
Interactive mapping to trace your ancestors' migration
A location database with over 3 million place names
Access to hints from genealogy websites Ancestry and FamilySearch
Integrated web search functionality
Family Tree Maker works on Mac devices with OS 10.10 or later and Windows systems with version 7 or newer. However, it's not compatible with ChromeOS at present, though this might change with future updates.
There are some limitations to the software. It allows you to incorporate DNA test results into your family tree, but it doesn't analyze raw DNA data for genealogical site matches. Also, given its higher price, one might expect it to import GEDCOM files from other software seamlessly. Yet, there have been reports of inaccuracies in this process, and according to user forums, this problem isn't exclusive to me as a user of Family Tree Maker.
5 Standout Features of Family Tree Maker
Safeguard your Research with TreeVault Cloud Services
As the name suggests, TreeVault is a cloud service offered by FamilyTree Maker, which provides the following features:
FTM Connect – A free mobile app that allows you to view your Family Tree Maker tree anywhere, at any time on your iOS or Android device, even when you've closed down the program on your computer. It's very useful for sharing your family tree and the progress you have made with your genealogy research with your family. Your tree on FTM Connect will automatically update when you make changes to your tree via Family Tree Maker.
Emergency Tree – The TreeVault stores a continuously updated version of your family tree, so your research and progress are protected, if your hard drive crashes, or your computer completely breaks down.
Historical Weather – Give your family tree an extra layer of detail by accessing more than a billion historical weather records. Find out if it was raining when your Grandmother was born, or glorious sunshine when your parents were married.
Next of Kin – Designate a successor to your TreeVault account, so you can pass along your family tree. Include a certificate in your will, providing instructions, passcodes, and your Family Tree Maker license, so they can pick up your genealogy research where you left off.
Explore Your Ancestry With Family Tree Maker!
Further Your Research with Hints
Hints to potential matches to Ancestry and/or FamilySearch appear next to individuals in the index, as well as the person's profile. Further your research into forgotten branches of your family tree and input information directly from the genealogy websites, but you will need accounts with them. FamilySearch records are free to view but to access the historical records or sync up your family tree with Ancestry, you'll need a paid subscription.
Organize and Edit Media with Ease
With the easy-to-use Photo Darkroom tools, just a few clicks are all it takes to restore old and faded photographs back to their former glory. Uncover new details and depth in your old family photographs and see your ancestors like you never have before.
Plus, the profile picture cropping tool can detect faces and zoom in just the right amount to create the perfect image for a relative's leaf on your family tree. Better yet, this smart photo editing tool doesn't change the original photograph.
Organizing your photographs, audio and visual files, and other media with Family Tree Maker is easy. You can add media to your family tree directly from your devices, scan images directly into your tree, and create beautiful slideshows.
Useful Color-Coding Feature
The Color Coding feature allows you to assign up to eight different colors to a person and their ancestors and descendants. These colors are visible on your tree, which allows you to trace lineages with ease and help you to create filtered lists.
Quality Charts and Reports to Bring Your Tree to Life
Family Tree Maker has over 25 types of charts and reports, including colorful family tree charts, bowtie and fan charts, and pedigree and descendent charts. If you're struggling with all the options, the charting controls include some very useful information about each chart type, why it's used by genealogists, and what it shows.
While it doesn't have the variety and style to match those offered by Heredis, the charts are visually appealing and uncluttered, with clean lines. The genealogy book tool allows you to combine a number of charts and reports into a book that can be shared with your family via email or print out.
Get to Know Your Ancestors With Family Tree Maker!
Growing Your Tree is Easy, but it could be Costly
Building your family tree with Family Tree Maker is easy, thanks to intuitive software and a simple method of data entry.
Using myself as the root person for my family tree, within just half an hour I had added the information – including pictures – for a dozen family members. The workspace is clean and efficient with only a few features requiring new windows to open, so I didn't get lost in a bunch of open tabs.
The on-screen hints for potential matches to records in the FamilySearch and Ancestry archives were useful for furthering my research once I'd exhausted my personal knowledge of my family history. Accessing the records in FamilySearch is free, but to view the historical records from Ancestry, you'll have to pay for a subscription. This can really add to your costs when building your family tree.
When researching the genealogy sites proved fruitless, I moved over to the integrated web search, which allows you to search the internet, without leaving the Family Tree Maker workspace. This is really useful for imputing new information, as you don't need to keep switching tabs.
Other features I liked about Family Tree Maker include the excellent photo editing and media management tools, the color-coding feature, and the Turn Back Time tool, which allows you to keep track of the last 1,000 changes you've made to your tree. This makes it easy to root out and fix any mistakes or inaccuracies.
However, my experience with Family Tree Maker was not all positive. While the charts were colorful and clean, the choice for charts and reports was limited when compared to the likes of Family Historian and Heredis. If you want a wider selection of charts, you do need to pay for an add-on.
This leads me to the biggest disappointment of Family Tree Maker – the price. At 79.95, Family Tree Maker is the most expensive family tree builder I have tested, and although it does have some nice features, it doesn't offer much more than cheaper software. Plus, customer service is not up to scratch, particularly for such an expensive product.
Expensive Family Tree Software, and Add-ons Cost Extra
Compared to some of the other family tree builders I have tested, Family Tree Maker is the most expensive with a one-off download cost for Mac and Windows of $79.95. It's $89.95 for a DVD and the download, or $99.95 for a USB and the download – both these options have an additional $5.95 delivery fee.
However, with Family Tree Maker, this is just the start of the costs, which you can expect to add up quickly if you're serious about your research into your ancestors.
The $79.95 download cost is only for one license, restricting use to a single user's computers. If you have family members also interested in working on the family tree, you'll need to purchase the Family Pack Upgrade ($20), which allows installation on three computers to be used by three people in your home.
If you want to make use of TreeVault Cloud Services to safeguard your family tree, that's also going to cost you. At the moment, you get the first three months free (this is subject to change) after which it is $1.99/month.
These costs come before you even start to use the software. If you want to access the hints from genealogy websites, those from FamilySearch are free, but you will need to pay a subscription fee to access Ancestry's historical records. Building a well-researched and extensive family tree with Family Tree Maker can prove to be costly.
Additional costs you may choose to make the most of Family Tree Maker include:
Companion Guide ($40) – A 325-page color-printed step-by-step tour of the program and all you can achieve with it.
Chart Companion – The DNA Edition plug-in for Family Tree Maker offers a way to chart DNA matches in your trees, as well as more than a dozen chart types not currently in Family Tree Maker.
So, the big question. Is Family Tree Maker worth the cost? For serious genealogy enthusiasts, the high price point and extra add-ons probably will be worth it for the long journey into their family history. If you're a genealogy novice, just interested in trying out a family tree builder, a better option is to choose one which has a free trial or money-back guarantee such as Family Historian or RootsMagic.
Disappointing Live Chat Support, but Okay Knowledge Base
While the knowledge base of Family Tree Maker is not as extensive as it could be, there is still plenty of information you can search in the Support Center. The FAQ and troubleshooting guides are useful, but I would have appreciated a link to video guides and tutorials.
The live chat support was a story of two halves. I received a response to my first question within just a few minutes, which was very impressive considering it was a Sunday afternoon.
However, things changed quickly once I enquired about the DNA information you can add to your family tree. After asking me a question, the live chat representative stopped responding and after waiting for an hour, I decided to give up.
.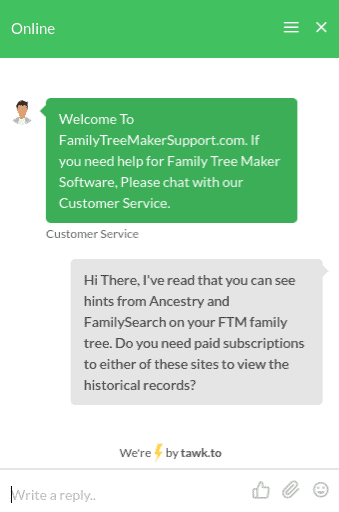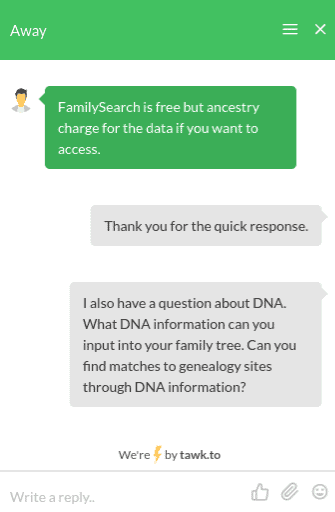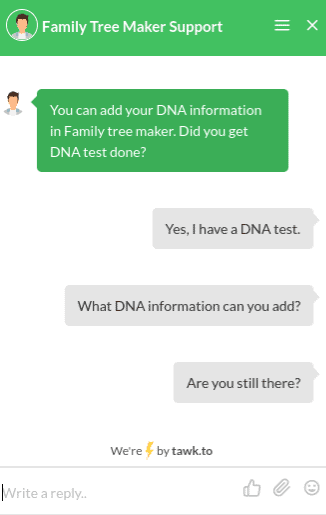 I hoped that since live chat stopped responding to me, I would get an answer to my query about adding DNA information to my family tree from email support. So, I sent off an email and four days later, I still had no response, which was extremely disappointing. If I was having technical difficulties with the software, my research would be ground to a halt, which would be frustrating after paying almost $80 for the program.
Overall, I believe customer service could be better. Although you can get answers to a wide number of queries via the knowledge base on the Family Tree Maker, if you have additional questions, you may find customer support lacking.
Nice Software Overall, but Cheaper Options Available
As the software is so easy-to-use, Family Tree Maker is a great choice for both amateur and experienced genealogists.
Integration with FamilySearch allows you to search its records for free, but to investigate any possible matches with Ancestry, a paid subscription is required, which is rather costly, considering the $79.95 cost for the software download.
Color-coding, excellent photo editing tools, and a wide range of chart options, allow you to create beautiful books that can be printed out or emailed to your family to share your genealogy research and discoveries.
The fact that you can back up your tree to the cloud with TreeVault is a unique feature, but you do have to pay extra for it, which is a running theme for Family Tree Maker. They offer a number of add-ons to improve your experience with the family tree builder – including a comprehensive user guide and extra chart option – but you have to pay extra for them all.
There is definite room for improvement in customer service, with a lack of response from both live chat and email support being extremely disappointing.
Overall, Family Tree Maker has all you need to create a well-researched family tree. However, there are cheaper options available that give you more for your money, such as Family Historian.
FAQ
Can you build your family tree for FREE with Family Tree Maker?
Unfortunately not. Family Tree Maker does not currently have a free trial or demo mode, which allows you to try out the features of the software before you buy. There is also no money-back-guarantee, which can be a bit off-putting, particularly as the family tree builder is more expensive than most.
If you are looking for family tree software that you can try before you buy, I recommend RootsMagic and Heredis, which both offer free versions, which can be tested for unlimited time periods.
Is there a discount for upgrades from older versions of the software?
Yes, if you have an older version of Family Tree Maker, there is a discount for downloads of the latest version of the software. The current discount for an upgrade is $59.95, but it is sometimes as low as $49.95. You can keep track of the latest upgrade and other discounts, by signing up for the Family Tree Maker newsletter.
Will I benefit from subscribing to a genealogy website?
With the integration of FamilySearch, Family Tree Maker grants you free access to an impressive collection of over six billion historical records. However, to fully leverage Family Tree Maker's integration with Ancestry and unlock the vast array of hints and associated historical records, a subscription to the Ancestry genealogy site is required.
If your goal is to construct a comprehensive and meticulously researched family tree, I highly recommend considering a subscription to Ancestry. Their extensive database offers access to a staggering 27 billion historical records. Furthermore, Ancestry currently provides a two-week free trial, allowing you to explore their offerings before committing to a subscription.